Firmy niepłacące dostawcom będą miały wyższe podatki
Problem nierzetelności płatniczej wśród firm pozostaje powszechnym zjawiskiem. 48 proc. firm informuje, że w ostatnich 6 miesiącach miało do czynienia z niesolidnością swoich odbiorców, ponieważ regulowali płatności za otrzymany towar czy usługi z ponad 60-dniowym opóźnieniem – wynika z cokwartalnego badania Instytutu Keralla Research dla Rejestru Dłużników BIG InfoMonitor. Rząd przygotowuje kolejne zmiany, które mają utrudnić życie firm-dłużników, tym razem będą to podwyższone podatki.
Prowadzone od dwóch lat analizy BIG InfoMonitor pokazują, że grupa firm oferujących usługi i towary z odroczonym terminem płatności, zmagających się z niesolidnymi kontrahentami, wciąż utrzymuje się między 40 a 50 proc. Niestety statystyk nie zmienia poprawa koniunktury gospodarczej, ani w krótszej, ani w dłuższej perspektywie.
Przeprowadzane co kwartał badanie* dla BIG InfoMonitor, wykonywane przez  Instytutu Keralla Research pokazało, że na przestrzeni trzech miesięcy odsetek przedsiębiorców skarżących się na problem z nieterminowym otrzymywaniem płatności od kontrahentów  nieznacznie wzrósł.  W edycji badania po I kw. firm skarżących się na otrzymywanie płatności od kontrahentów z co najmniej 60-dniowym opóźnieniem  w ciągu ostatnich 6 miesięcy było 45 proc., po II kwartale odsetek ten sięga 47,9 proc.
Przedsiębiorcy nie przewidują poprawy
Przedsiębiorcy nie spodziewają się szczególnej poprawy sytuacji. Na pytanie: Jak pod względem przeterminowanych płatności będzie wyglądała sytuacja za pół roku? Zdecydowana większość (61 proc.) odpowiedziała, że nie zmieni się, albo się pogorszy (10 proc.) jedynie co piąty przedsiębiorca (21,4 proc.) zakłada, że liczba faktur płaconych z co najmniej 60 dniowym opóźnieniem będzie mniejsza niż obecnie.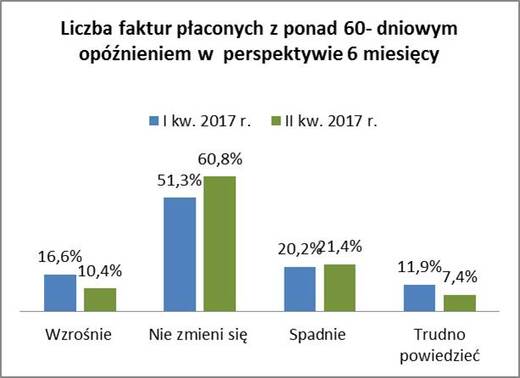 Źródło: BIG InfoMonitor, Instytut Badań i Rozwiżań B2B Keralla Research
Już za trzy miesiące można będzie wpisywać dłużników do rejestru BIG po 30 dniach
Firmom czekającym często w nieskończoność na pieniądze ma pomóc, wchodząca w życie 13 listopada tego roku wraz z innymi regulacjami w ramach tzw. pakietu wierzycielskiego, możliwość wpisywania dłużnika do Rejestru BIG już po 30 dniach od terminu płatności, zamiast po 60 dniach. W ramach regulacji pakietu wierzycielskiego od przyszłego roku mają też rozpocząć działanie dwa rejestry ograniczające ryzyko podjęcia współpracy z problematycznymi firmami. Pierwszy to rejestr należności publicznoprawnych, do którego trafią informacje m.in. o firmach zalegających z regulowaniem podatków czy ceł, a drugi to rejestr podmiotów wobec których doszło do nieskutecznych egzekucji sądowych lub administracyjnych. Informacje z obu rejestrów będą dostępne za pośrednictwem Biur Informacji Gospodarczej.
Ale rząd pracuje już nad kolejnymi rozwiązaniami zwiększającymi mobilizację dłużników do terminowego regulowania zobowiązań. Tym razem mają to być narzędzia podatkowe. Dziś wierzyciel nawet jeśli nie dostaje pieniędzy, to po wystawieniu faktury musi zapłacić podatki. O ile zapłacony VAT może sobie odebrać jeśli kontrahent nie zapłacił w ciągu 150 dni, to już podatku dochodowego nie.
Niezapłacona faktury podwyższy przychody dłużnika
"Projekt ustawy o zmianie niektórych ustaw w celu wprowadzenia uproszczeń dla przedsiębiorców w prawie podatkowym i gospodarczym" Ministerstwa Rozwoju i Finansów przewiduje, że jeśli firma w ciągu 120 dni od terminu wyznaczonego w umowie lub na fakturze nie otrzyma płatności i w tym czasie nie sprzeda tej wierzytelności, będzie miała możliwość pomniejszenia podstawy opodatkowania o zaległą kwotę, dzięki czemu zapłaci niższy podatek dochodowy. Natomiast niesolidnego dłużnika spotkają sankcje dwojakiego rodzaju. Przede wszystkim nie będzie mógł wliczyć w koszty takiej niezapłaconej faktury, a dodatkowo będzie musiał zwiększyć swoją podstawę opodatkowania i tym samym zapłacić wyższy podatek dochodowy.
– Propozycja jest konkretna i warta uwagi. Daje szanse na poprawę sytuacji i co ważne, daje ulgę wielu firmom oczekującym w nieskończoność na płatność od odbiorcy towarów czy usługi. W naszej bazie ponad 99 proc. wpisanych dłużników nie zapłaciło swoim kontrahentom od ponad 120 dni. A mowa tu o kwocie przekraczającej 3,6 mld zł – mówi Sławomir Grzelczak, prezes BIG InfoMonitor.
Jeśli chodzi o zjawisko przekazywania problemu płatności z jednego przedsiębiorstwa na drugie, firmy deklarują w badaniu, że obecnie rzadziej wywołują efekt domina. "Nie płacę moim kontrahentom, bo mnie nie zapłacono" – mówi dziś 17 proc. ankietowanych przedsiębiorstw, podczas gdy trzy miesiące temu odpowiadało tak 35 proc. badanych. – Dobra sytuacja gospodarcza może wpływać na poprawę płynności finansowej przedsiębiorstw i tym samym zwiększać szanse na wywiązywanie się z płatności nawet gdy do kasy nie wpłyną na czas należności. To bardzo dobrze, bo przecież kłopoty z uzyskaniem płatności od kontrahentów uruchamiają w firmie całą lawinę problemów: chwieją płynnością finansową firmy, powodując właśnie przekazywanie kłopotów na swoich dostawców , wywołują konieczność pozyskiwania zewnętrznego finansowania, ograniczają inwestycje, możliwości zatrudniania nowych pracowników i w ogóle rozwój całej firmy – zwraca uwagę Sławomir Grzelczak, prezes BIG InfoMonitor.
*Badanie przeprowadzone przez Instytut Badań i Rozwiązań B2B Keralla Research, na próbie 500 firm, techniką wywiadów telefonicznych, sierpień 2017 r.
:
Informacja prasowa/opracowanie: Anita Florek