Meksykańska ikona w Poznaniu
Przez prawie cztery miesiące będzie można w poznańskim CK Zamek oglądać wystawę "Frida Kahlo i Diego Rivera. Polski kontekst". Jest to pierwsza i jedyna w swoim rodzaju prezentacja dzieł tej meksykańskiej artystki w Polsce.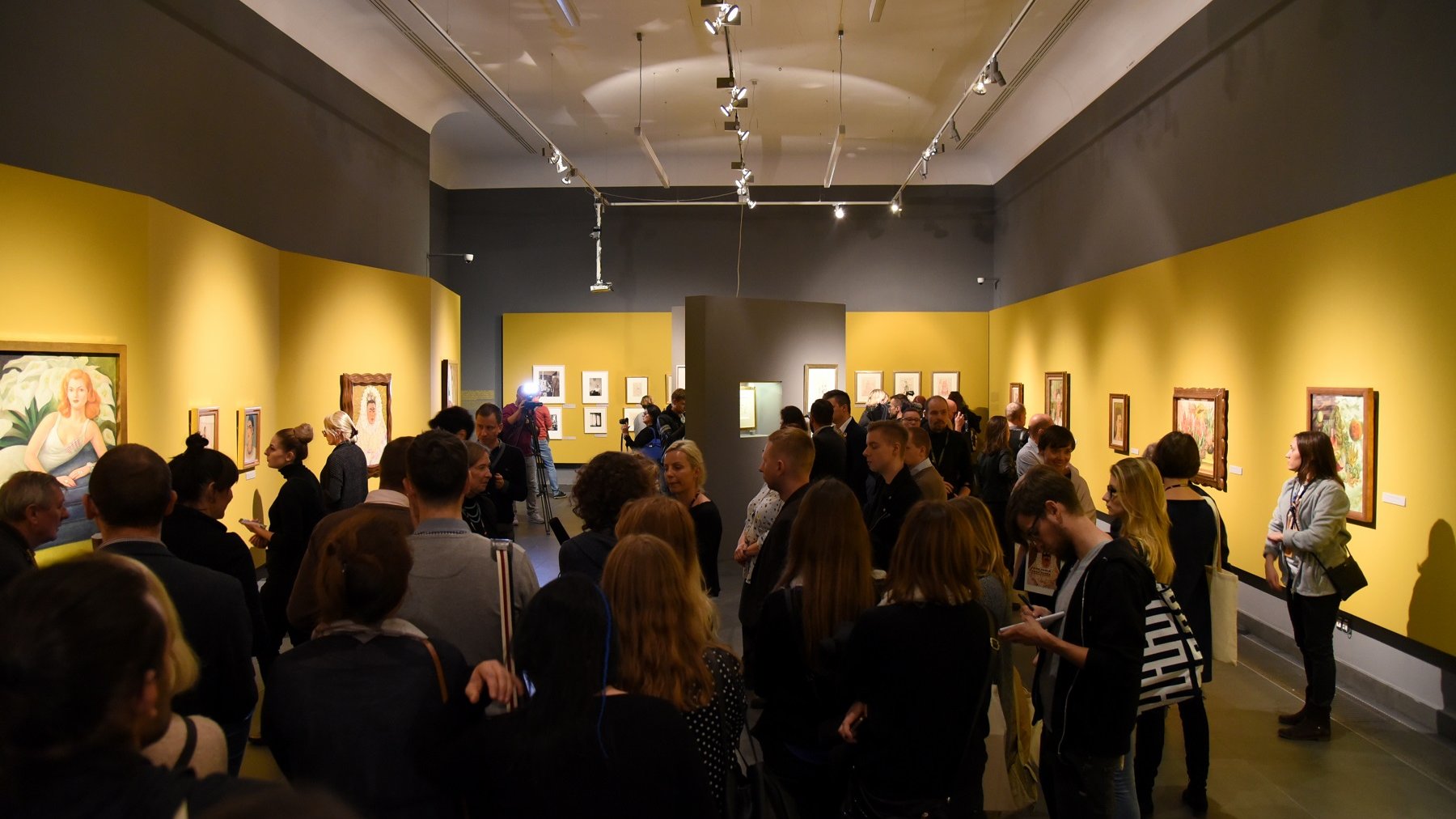 – W Europie są na stałe tylko dwa dzieła Fridy Kahlo. U nas będzie można ich obejrzeć aż 29. Dla promocji kultury i naszego miasta jest to niewyobrażalna okazja – powiedział Jędrzej Solarski, zastępca prezydenta Miasta Poznania. – Jest ogromne zainteresowanie tą wystawą. Spodziewamy się gości i wielbicieli Fridy Kahlo i Diego Rivery z całego świata. Zapraszamy również do CK Zamek poznaniaków. Przychodźcie przez najbliższe cztery miesiące, bo naprawdę warto – dodał wiceprezydent Solarski.
Frida Kahlo de Rivera to artystka ciesząca się niezwykłą sławą na całym świecie. Znana jest przede wszystkim ze swoich licznych autoportretów, na których widoczne są "ból i pasja″ wyrażone w intensywnej, jaskrawej kolorystyce.
Wystawa "Frida Kahlo i Diego Rivera. Polski kontekst" będzie pierwszą i jedyną w Polsce wystawą Kahlo i Rivery, wzbogaconą o mało znany polski wątek w życiu artystów. Tytułowy kontekst tworzą z jednej strony bardzo bliskie relacje artystów z autorkami o polskim pochodzeniu – Bernice Kolko i Fanny Rabel, z drugiej zaś obecność obrazów Kahlo i Rivery oraz grafik Fanny Rabel na Wystawie Sztuki Meksykańskiej w 1955 roku w Polsce.
Pokazane zostaną dzieła Kahlo i Rivery z Gelman Collection z Meksyku oraz prace Kahlo i innych artystów meksykańskich z kolekcji z Meksyku, Niemiec, USA i Muzeum Narodowego w Warszawie. Zobaczymy ponad 40 obrazów i prac na papierze Kahlo i Rivery z kolekcji Gelmanów oraz fotograficzne portrety Fridy autorstwa Nickolasa Muraya, zdjęcia artystki i jej otoczenia wykonane przez Bernice Kolko i obrazy uczennicy Kahlo – Fanny Rabel.
Całość dopełni prezentacja grafik współczesnych artystów meksykańskich inspirowanych twórczością Fridy oraz pokaz filmów dokumentalnych na jej temat. Wystawa obejmie ponad 200 prac. Towarzyszyć jej będzie program edukacyjny: wykłady, spotkania, warsztaty, oprowadzania, kursy muzealne oraz filmowy w Kinie Pałacowym.
– Czuję wielki smutek, ale też wielką radość. Jak Państwo wiedzą, 19 września było w Meksyku wielkie trzęsienie ziemi. Zginęły setki ludzi, a tysiące jest poszkodowanych. Mój kraj da sobie radę dzięki solidarności Meksykanów i przyjaznych nam krajów takich jak Polska – powiedział po polsku Alejandro Negrín Muñoz, ambasador Meksyku w Polsce, a już o samej wystawie dodał. – Jest to zapewne najważniejsza prezentacja sztuki meksykańskiej w Polsce, a Frida Kahlo to najbardziej znana meksykańska artystka oraz jedna z największych współczesnych ikon. Kuratorka bardzo trafnie wskazała głęboki związek Fridy Kahlo i Diego Rivery z Polską. Jestem pewny, że będzie to wystawa roku w Polsce.
Przy okazji wystawy odbywać się będzie zbiórka na rzecz ofiar trzęsienia ziemi w Meksyku. Wystawione w Holu Wielkim CK Zamek, inspirowane twórczością Fridy, prace artystów grupy meXylo będzie można kupić, zasilając fundusz pomocy poszkodowanym.
Wystawa dla publiczności będzie otwarta od 28 września do 21 stycznia. Zakup biletów jest możliwy na konkretne dni i godziny: 12-14, 14-16, 16-18, 18-20, pod warunkiem ich dostępności w danym terminie. Wyjątek stanowią ostatnie dwa dni wystawy: 20-21 stycznia 2018 roku. W tych dniach ekspozycję można zwiedzać od godz. 12:00 do północy.
Bilety można kupić w kasie CK ZAMEK, poprzez strony: www.ckzamek.pl i www.bilety24.ploraz w Centrum Informacji Miejskiej (ul. Ratajczaka 44). Przez internet można kupić wyłącznie bilety normalne i ulgowe. Bilety z Kartą Rodziny Dużej można zakupić w kasie CK ZAMEK oraz w Centrum Informacji Miejskiej, a bilety grupowe tylko w kasie CK ZAMEK.
Dla dzieci do 5. roku życia wstęp na wystawę jest bezpłatny.
Więcej informacji na temat wystawy można przeczytać na stronie CK Zamek http://ckzamek.pl/podstrony/1850-frida-na-zamku/
Ryszard Bączkowski/biuro prasowe