Młody Polak na kredyt kupi czołg i poleci balonem
Przeterminowane długi młodych Polaków sięgają 9,3 mld zł. Młodzi trafiają do rejestru dłużników najczęściej z powodu nieopłaconych rachunków za telefon, grzywien sądowych, pożyczek i kredytów. W swoich finansowych działaniach są mocno niekonsekwentni – wynika z badania "Życie finansowe młodych Polaków"* zrealizowanego przez Stowarzyszenie Program Wsparcia Zadłużonych we współpracy z BIG InfoMonitor. Choć uznają, że zadłużanie się uzasadniają poważne zakupy i sytuacje, to jednak podają mnóstwo przykładów dziwnych "inwestycji" na kredyt, jak: dalekomorskie rejsy, loty balonem, gry komputerowe, czołg, łodzie, konie czy operacje plastyczne.
Młodych dłużników w wieku od 18 do 34 lat jest już 659,5 tys., a ich zaległości wynoszą 9,3 mld złotych – widać w danych BIG InfoMonitor oraz BIK. Statystyki te oznaczają, że w grupie wiekowej liczącej ponad 9 mln osób, kłopoty finansowe ma co 16-sta osoba. W ciągu I półrocza liczba młodych z problemami zwiększyła się o 5 tys., a wartość zaległości o 0,5 mld zł. Wraz z nadejściem wakacji przed młodymi znów większe wydatkowe pokusy.
Młodzi finansowo przewrotni
Z badania "Życie finansowe młodych Polaków" zrealizowanego przez Stowarzyszenie Program Wsparcia Zadłużonych we współpracy z BIG InfoMonitor wynika, że wśród młodych panuje duże zróżnicowanie poziomu świadomości ekonomicznej. Prawie 70 proc. badanych nie ma poczucia rzeczywistej skali problemu i ryzyka związanego z zaciąganiem zobowiązań finansowych i nie traktują go wystarczająco poważnie. Osoby zaciągające poważniejsze zobowiązania najczęściej optymistycznie zakładają, że potrafią uzyskać pieniądze na ich spłatę z własnej pracy lub dodatkowych zajęć – 55,2 proc. oraz oszczędzanie – 44 proc. U osób już zadłużonych sytuacja jest diametralnie inna – są one zdecydowanie częściej skłonne pożyczać dalej, także w instytucjach pozabankowych, a nawet wyprzedawać dobytek ze względu na kłopoty z obsługą posiadanego długu. Z pewnością jest to dla nich bolesne doświadczenie, bo są bardzo krytyczni wobec osób, które nie radzą sobie finansowo. – Młodzi prezentują zdecydowanie negatywny wizerunek "niesolidnego dłużnika", jako osoby słabej, biernej, uległej, leniwej a nawet "głupiej", z którą osobiście trudno się im identyfikować. Najczęściej upatrują przyczyn kłopotów w spłacie zobowiązań w nieodpowiedzialności, lekkomyślności, lenistwie i chęci łatwego życia na kredyt. Nie biorą natomiast pod uwagę niepowodzenia ze względu na zdarzenia losowe – mówi Roman Pomianowski, prezes Stowarzyszenia Program Wsparcia Zadłużonych.
Na pożyczanie młodzi patrzą rozsądnie – uważają za uzasadnione zaciąganie zobowiązań na sfinansowanie zakupu środków trwałych np. mieszkania czy samochodu – prawie 89 proc. wskazań, ze względu na zdarzenia losowe – 79 proc. Stosunkowo często dopuszczają także możliwość zapożyczania się ze względu na trudną sytuację osób bliskich – 47 proc. oraz dla sfinansowania ważnych wydarzeń życiowych jak np. wesele – 46 proc. odpowiedzi. Zdecydowanie negatywnie odnoszą się natomiast do zapożyczania się aby poprawić bieżący budżet – 35 proc. poparcia dla takiego pomysłu, nie mówiąc już o rekreacji, która jest powodem do zadłużenia się dla 19 proc. ankietowanych.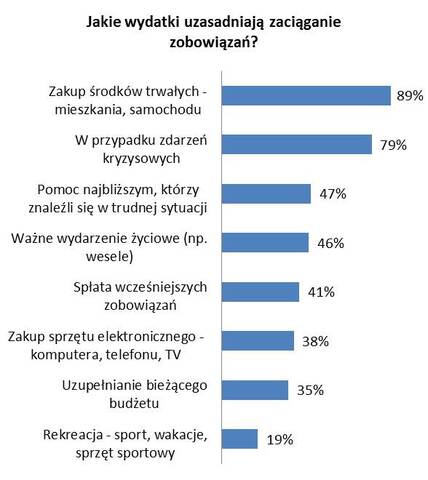 Źródło: Badanie "Życie finansowe młodych Polaków"
Niespłacone pożyczki i kredyty m.in. na dziwne zakupy
Pożyczki i kredyty są główną przyczyną kłopotów młodych osób. Zarówno w grupie wiekowej 18-24 jak i 25-34 najwięcej osób ma problem z terminowym regulowaniem pożyczek – niemal 248 tys. osób. Jednocześnie jak wynika z danych BIK, ponad 254 tys. osób ma też kłopoty z terminową obsługą kredytów (przy czym w części przypadków jedna osoba może mieć problem i z jednym z drugim). Niestety wbrew deklarowanym zasadom nie zawsze długi zaciągane są na naprawdę zasadne  wydatki. Jak wynika z badania "Życie finansowe młodych Polaków" niektóre z zakupów za pożyczone pieniądze potrafią wprawić w zdumienie. Na liście wydatków, które mogą się wydać zaskakujące, znalazły się m.in. organizacja świąt Bożego Narodzenia i uroczystości rodzinnych jak choćby 18. urodzin, komunii dziecka czy zakup pierścionka zaręczynowego, ale także: ciągnik bez silnika, gry komputerowe, czołg, łódź, konie, psy rasowe, pająk, jachty, quady, zabawki dla dzieci. Spora grupa kredytowanych wydatków dotyczyła też inwestycji we własny wygląd i zdrowie, np. tabletki odchudzające, operacje plastyczne, zabiegi medycyny estetycznej, korekcja zębów, okulary, implanty piersi, sprzęt do manicure czy wyjazd do znachora w Brazylii. Młodym nie brakuje też odwagi do pożyczania pieniędzy na rozrywkę i wypoczynek jak: wyjazdy wakacyjne, zagraniczne wycieczki, loty balonem czy dalekomorskie rejsy.
Rachunki telefoniczne i długi wobec sądów
Wśród 18-24 latków drugim powodem, dla którego wpisywani są do Rejestru Dłużników BIG InfoMonitor, gdzie widnieją przede wszystkim zaległości pozakredytowe, znajdują się rachunki telefoniczne. Młodzi 18-24 oraz 25-34 latkowie stanowią razem aż 45 proc. dłużników telekomów zgłoszonych do BIG InfoMonitor.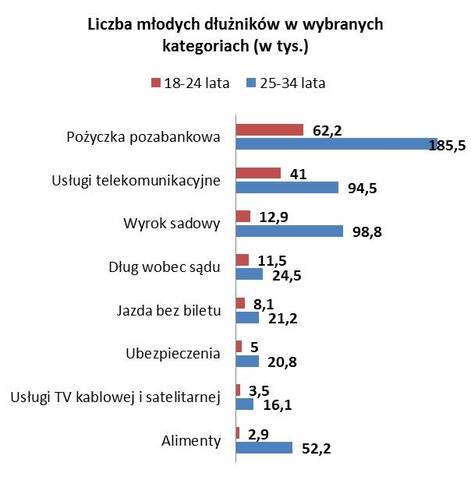 Źródło: BIG InfoMonitor
Choć może wydawać się to zaskakujące, sporą część długów osób w wieku 18-34 lata stanowią już także zobowiązania, z którymi wierzyciel udał się do sądu i zostały zgłoszone do BIG już na podstawie prawomocnego wyroku sądowego. Ale to niejedyny kontakt młodych dłużników z wymiarem sprawiedliwości, wśród 18-34 latków znajduje się aż połowa dłużników sądowych, czyli osób, które zostały wpisane do rejestru przez wymiar sprawiedliwości z powodu nieopłacenia sądowej grzywny czy kosztów postępowania sądowego.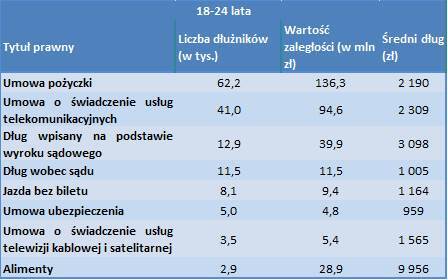 Źródło: BIG InfoMonitor
Mimo, że najwięcej osób w wieku 25-34 nie spłaca terminowo pożyczek, to jednak wartościowo przewyższają je zobowiązania alimentacyjne. Kwota nieopłaconych na rzecz dzieci świadczeń przekroczyła tu 1,25 mld zł.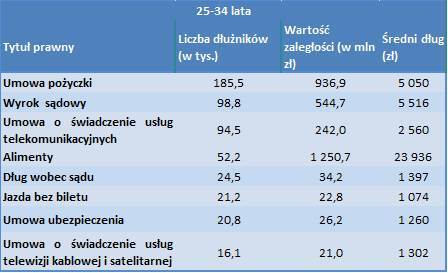 Źródło: BIG InfoMonitor
Podział na dłużników 18-24 lata oraz 25-34 lata pokazuje, że mimo rosnących doświadczeń, z wiekiem trudniej poradzić sobie ze zwiększającą się liczbą zobowiązań. W efekcie w BIG InfoMonitor oraz w BIK, z nienajlepszą historią kredytową, jest cztery razy więcej osób między 25 a 34 rokiem niż 18-24 latków.
*Badanie zrealizowano w 12.2016 r. na próbie 890 osób, analizę statystyczną oparto o 776 ankiet osób w wieku 18-35 lat – z czego w okresie "młodzieńczym" 18-25 lat – 66% i w okresie "wczesnej dorosłości" 34%. Dominujące zajęcia badanych to: studia 61% i praca zawodowa 38%.
:
Informacja prasowa/opracowanie: Anita Florek